Successful COR Audit
Congratulations to everyone on a successful COR audit!
February "Think Safety" Contest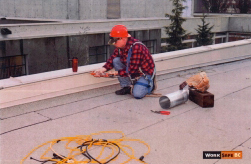 Beside is the photograph for February's "Think Safety" Contest for Status employees only. Please submit the safety violations you see in this photo to Michele Baratelli.
Status Wins VRCA Safety Award
Status Electrical is proud to announce that it won the VRCA Safety Award for Trade Contractors at the VRCA Awards night on October 26th, 2010.  This is the 7th time in the last 9 years that Status has won this Award. This Award further emphasizes Status' commitment to employee Health and Safety.  We are proud that we have a group of staff who buy into our Health and Safety program, and take the personal safety as seriously as we do.
Status Passes BC & Alberta Safety Audits with Flying Colours
On November 6th, 2008, Status received news that it had passed its COR External Safety Audit for BC with marks of 100% for its Return to Work program, and 96% for its Health and Safety program.  This gave a combined average of 98%.   This score is a true testament to the committment Status Electrical has made to ensure safe work sites for all employees.  The following is an excerpt from the BC auditor's report on November 6th:
"It is my professional opinion that Status Electrical Corporation has an extremely Health & Safety orientated culture throughout their organization.  I found all employees and managers to be genuine in their concern for their own health and safety as well as the health and safety of all concerned stakeholders.  Manual review, documentation, observations, and interviews have all combined to lead me to the inescapable conclusion that a tremendous level of committment, support, resource allocation and stakeholder participation has been devoted to all areas of their Occupational Health & Safety system.  I strongly recommend that Status Electrical Corporation be awarded their Certificate of Recognition as an acknowledgement of their efforts.  It was a pleasure performing this audit and Status should be recognized as a Health & Safety leader in their industry." Todd Quinlan, Nov 6th/08
On November 25th we received a combined score of 95% for our Alberta audit.  The Alberta auditor highlighted particular strengths in our program as being:  1.  The Status Investigation and Hazard Identification process, 2.  The Status Personal Protective Equipment policy, and 3.  Management of worker training and worker training records.
We are very pleased to have passed both audits, but will also continue to strive to improve our safety procedures and protocols on all of our jobsites, emphasizing our belief that safety is our first priority in everything we do.
Health & Safety Training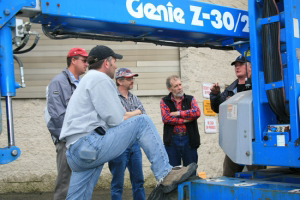 On July 13th, 2007 Status Electrical Corporation hosted its first company wide Health & Safety Training Day. This was the first of two training days scheduled for the month of July. All field employees (and many office employees) undertook training in a variety of areas including Fall Protection, Forklift, Boom and Scissor Lift, WHMIS, Fire Extinguisher, and Hearing Testing. These training days are set to become a regular feature at Status Electrical as the company continues to build on its reputation as the safest trade contractor in BC. Status Electrical has won the VRCA Safety Award for six years in a row.