Status has received two silver awards at the VRCA Awards of Excellence 2015. The UFV Student Center and Vancouver Aquarium Expansion and Revitalization Project are two examples of the quality and hard work that the Status Team is known for. Congratulations to all the staff involved in these projects.
Both the projects are eligible to win Gold at the VRCA Awards of Excellence Event on October 21st 2015.
Successful COR Audit
Congratulations to everyone on a successful COR audit!
Status Wins VRCA Safety Award
Status Electrical is proud to announce that it won the VRCA Safety Award for Trade Contractors at the VRCA Awards night on October 26th, 2010.  This is the 7th time in the last 9 years that Status has won this Award. This Award further emphasizes Status' commitment to employee Health and Safety.  We are proud that we have a group of staff who buy into our Health and Safety program, and take the personal safety as seriously as we do.
Status Wins Gold & Silver at 2009 VRCA Awards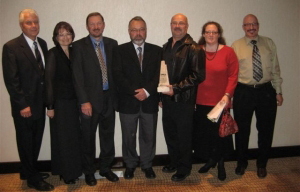 Status is proud to announce that it took home both Gold and Silver Awards at the prestigious 2009 VRCA Awards Night in Vancouver on October 1st!  Status won Gold in the "Electrical Contractor over $2million" category for its work at the Richmond Olympic Oval, and Silver in the 'Electrical Contractor under $2 million" category for its work on the Squamish-Lil'Wat Cultural Centre in Whistler.  Please check out both projects in the Project Portfolio section of this website.  Status was the only contractor to take home two awards on the evening, and company president Keith Falardeau stated, "To be honoured with two awards at an evening such as this is tremendous.  It is a true testament to the quaility of the Status team, and a real reward for the many hours of hard work that were put into these projects."  Falardeau specifically wanted to thank all the staff involved in those projects for "their dedication, their commitment to quality, and their example of "Taking Pride in Excellence."