Status Pink Divas Raise $6700 for Breast Cancer Research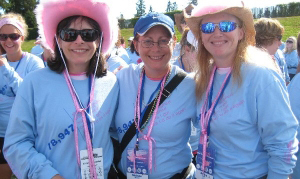 Congratulations to Donna Griffin, Michele Baratelli, and Elaine OShea for raising a combined total of $6700 for Breast Cancer research during the Walk To End Breast Cancer on September 6th, 2008. The Status ladies had been in training for many months for the event which has participants walk 60kms from UBC through various points in Vancouver, and finishing back to UBC. The event was a resounding success, and Status is very proud of these ladies for their dedication to the cause.
Status will have another team entering the race next year, with Irena Agafonow joining Elaine, Michele, and Donna on the team, as well as a number of other Status staff who have expressed interest. Next year's event will take place in August 2009. If you would like to find out more about the event, or if you would like to sponsor any of these ladies for next year's walk, please go to http://va09.endcancer.ca/site/PageServer?pagename=va09_homepage.