2008 Status Christmas Party Largest Ever
Over 200 staff and friends gathered for the 30th annual Status Electrical Christmas party held at the Fort Langley Town Hall on December 6th.  The occasion was a resounding success with the largest turn out in Status history.  Many staff members won door prizes, with 2nd Year electrical apprentice Tom Olujic winning the grand prize of a 50 inch LG Plasma TV.  All employees left with gifts of a Stanley thermos, and the new Status baseball cap.  Magician Mike Norden entertained tables throughout dinner, DJ James Larsen helped staff dance the night away, and Klassic Katering provided an excellent meal as always.
Many thanks to Keith for hosting on a great party, and to Cathy, Donna and Michele for putting the whole event together.
Merry Christmas everyone!!
Status Passes BC & Alberta Safety Audits with Flying Colours
On November 6th, 2008, Status received news that it had passed its COR External Safety Audit for BC with marks of 100% for its Return to Work program, and 96% for its Health and Safety program.  This gave a combined average of 98%.   This score is a true testament to the committment Status Electrical has made to ensure safe work sites for all employees.  The following is an excerpt from the BC auditor's report on November 6th:
"It is my professional opinion that Status Electrical Corporation has an extremely Health & Safety orientated culture throughout their organization.  I found all employees and managers to be genuine in their concern for their own health and safety as well as the health and safety of all concerned stakeholders.  Manual review, documentation, observations, and interviews have all combined to lead me to the inescapable conclusion that a tremendous level of committment, support, resource allocation and stakeholder participation has been devoted to all areas of their Occupational Health & Safety system.  I strongly recommend that Status Electrical Corporation be awarded their Certificate of Recognition as an acknowledgement of their efforts.  It was a pleasure performing this audit and Status should be recognized as a Health & Safety leader in their industry." Todd Quinlan, Nov 6th/08
On November 25th we received a combined score of 95% for our Alberta audit.  The Alberta auditor highlighted particular strengths in our program as being:  1.  The Status Investigation and Hazard Identification process, 2.  The Status Personal Protective Equipment policy, and 3.  Management of worker training and worker training records.
We are very pleased to have passed both audits, but will also continue to strive to improve our safety procedures and protocols on all of our jobsites, emphasizing our belief that safety is our first priority in everything we do.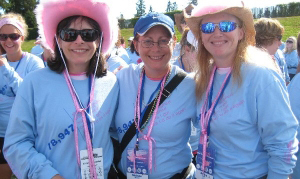 Congratulations to Donna Griffin, Michele Baratelli, and Elaine OShea for raising a combined total of $6700 for Breast Cancer research during the Walk To End Breast Cancer on September 6th, 2008. The Status ladies had been in training for many months for the event which has participants walk 60kms from UBC through various points in Vancouver, and finishing back to UBC. The event was a resounding success, and Status is very proud of these ladies for their dedication to the cause.
Paintball Day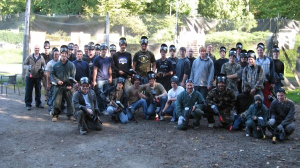 Fifty two employees and guests took part in the Status Electrical Paintball Day on Saturday September 13th, 2008. Thanks to Sniperz Paintball for the use of their excellent facility, and to Klassic Katering for providing lunch. In spite of all the paintball welts inflicted, this event was a great success, and looks set to become an annual fixture on the Status calendar.
Summer Rafting Trip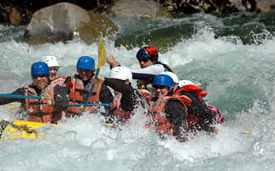 Over 60 employees and guests took part in the Status Electrical Summer Rafting trip on the Chilliwack River. We couldn't have asked for a better day for the trip, and by all accounts everyone had a great time! Highlights included one of the Status rafts flipping on a Class IV rapid!! A special mention goes to the staff at Chilliwack River Rafting who helped ensure that we all had a great time.
Status Electrical Team Wins BCEA Curling Bonspiel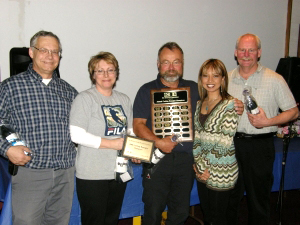 Congratulations to the Status Electrical team which won the 2008 BC Electrical Association Curling Bonspiel on March 28, 2008. Admittedly the team had a little help from ringer Mike Curtain of Gescan. Status members of the team were Alex Roberts, John Samson, and Michele Baratelli.
Most importantly the day was a huge success and over $300 was raised for the BCEA's scholarship fund.
Status Ladies Walk to End Breast Cancer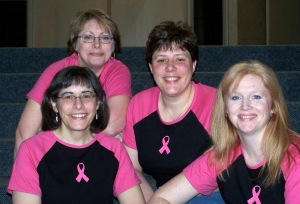 Status Electrical Corporation is proud to have a team of staff members participating in the Weekend To End Breast Cancer on September 5th - 7th, 2008. They will each be walking 60 kms over two days and are hoping to raise at least $8000 to be contributed to the BC Cancer Foundation towards finding a cure for Breast Cancer. The team members are Donna Griffin, Michele Baratelli, Elaine O'Shea, and Melissa Rathor.
Exemplifying their committment and dedication, they are already in training. If you are lucky enough to bump into the group on one of their Saturday morning training walks in Abbotsford, be sure to say hi, and encourage them in their amazing efforts!
If you would like to make a donation in any of their names, please click on the following link http://va08.endcancer.ca/site/TR?pg=pfind&fr_id=1255 and type in their name. You will be directed to a secure fundraising webpage.
Status Electrical VRCA Awards Prize Draw Winners Announced
Status Electrical was pleased to have Abbotsford Spirit of BC representatives Christine Wiebe and Kim Hissink along to help Status Senior Project Manager, James Stevenson with our VRCA Awards night prize draw. Status had been running a prize draw for VRCA members since the VRCA 2007 Awards night on November 1st, 2007. Christine Wiebe pulled the names out of the hat, whilst Kim provided moral support!
The Grand Prize winner of a Travel Voucher for $5000 was Roy Reichgeld of Halse Martin Construction! The runner up prize winner was Clint Wright of the Vancouver Aquarium. Congratulations to both Roy and Clint!!
The following individuals won $500 gift cards to Safeway: Ross MacDonald (Control Solutions), Chris Barr (Stuart Olson), Vikram Parmar (Stuart Olson), and Greg Lord (MCW Consultants).
The following individuals won $200 gift cards to the Keg: Steve Coleman (Guilleven International), Mandip Gill (Eaton Construction), Steve Darling (Global Television), and Mohammed Asin (Wesbridge Steelworks).
Status would like to thank all those who participated!
Status Making a Difference in Mexico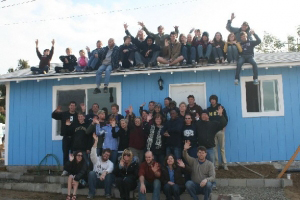 Status was proud to be able to lend a hand to an excellent team of individuals who recently spent one week in Mexico building a home for a local family. Status team member Rod Redlich was a part of this group, and Status Electrical was pleased to be able to send electrical supplies and parts with Rod to help with the project.
Incredibly, the team was able to build the house from start to finish in one week.
Status Helps Raise Over $6000 for the Abbotsford Christmas Bureau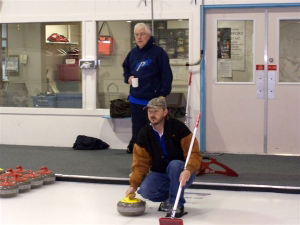 Status was proud to have two teams of curlers participate in the annual Curl for Kids curling bonspiel held at the Abbotsford Curling Club on December 2nd, 2007.  The event was a huge success, raising more than $6000 for the Abbotsford Christmas Bureau.  The money will be used to help many less fortunate families in Abbotsford give their kids a great Christmas.  Congratulations to the teams for their part in what was a great day, and a great cause!