There are an estimated 100, 000 Canadians living with Multiple Sclerosis , the highest rate in the world. The disease affects each individual differently and is quite unpredictable, affecting vision, hearing, memory, balance and mobility. There is no cure for MS however research is learning more about causes and prevention.

Status is proud to have contributed to this great cause.
This project is the first aquarium in North America to achieve LEED Gold certification and one of the first certified completed projects in BC. Status is very proud of the achievements of its crew on this project. The state of the art technology and the complexity of the electrical systems provided a welcome challenge to our superb team of journeymen and apprentices who enjoyed participating in cutting edge construction with an environmental and energy-sensitive priority. 
Status Successfully Completes YVR Project
Status Electrical is proud to announce the completion of YVR's greenest building constructed to date. This facility will house all Airfield maintenance, heavy equipment mechanics, and airside operations response and airside coordination personnel. This project utilizes all LED lighting and implements both solar panels and a wind turbine to help reduce its power consumption.
The staff at Status kicked off the holiday season with two festive events, the Adult's Christmas party and the Children's Christmas party. Staff enjoyed games, comedy, prizes thanks to the hard working volunteers.
Successful COR Audit
Congratulations to everyone on a successful COR audit!
February "Think Safety" Contest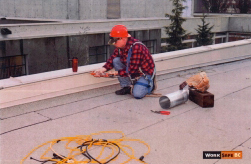 Beside is the photograph for February's "Think Safety" Contest for Status employees only. Please submit the safety violations you see in this photo to Michele Baratelli.
Status Wins VRCA Safety Award
Status Electrical is proud to announce that it won the VRCA Safety Award for Trade Contractors at the VRCA Awards night on October 26th, 2010.  This is the 7th time in the last 9 years that Status has won this Award. This Award further emphasizes Status' commitment to employee Health and Safety.  We are proud that we have a group of staff who buy into our Health and Safety program, and take the personal safety as seriously as we do.
Tony Shaves
Status wishes to announce the tragic passing of our friend and colleague Tony Shaves. Tony was killed in a car accident on October 16th, 2010. Tony has been with Status since February of 2008, and was most recently working at the Alouette Corrections Centre job site with our Automation department. Tony had many friends at Status and will be deeply missed! Our prayers and thoughts go out to Tony's partner Mandy and her son.
Status Wins Gold & Silver at 2009 VRCA Awards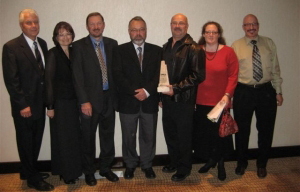 Status is proud to announce that it took home both Gold and Silver Awards at the prestigious 2009 VRCA Awards Night in Vancouver on October 1st!  Status won Gold in the "Electrical Contractor over $2million" category for its work at the Richmond Olympic Oval, and Silver in the 'Electrical Contractor under $2 million" category for its work on the Squamish-Lil'Wat Cultural Centre in Whistler.  Please check out both projects in the Project Portfolio section of this website.  Status was the only contractor to take home two awards on the evening, and company president Keith Falardeau stated, "To be honoured with two awards at an evening such as this is tremendous.  It is a true testament to the quaility of the Status team, and a real reward for the many hours of hard work that were put into these projects."  Falardeau specifically wanted to thank all the staff involved in those projects for "their dedication, their commitment to quality, and their example of "Taking Pride in Excellence."
Status Loses A Friend
It is with a heavy heart and great sadness that we announce the passing of Alex Roberts, Status Electrical's Senior Estimator. Alex passed away at his home on Sunday May 24th with his family around him. Alex had been battling cancer for over two years.
Alex has been with Status since February of 1998, actively running our estimating department through to the spring of 2009 when he was no longer well enough to remain in the position. Alex set a high standard of work ethics and will be remembered for his leadership, friendship, sense of humour and most of all his dedication.
Our thoughts and prayers go out to Carol, his wife and his three sons, Chris, Danny and Scott.